January 18th, 2011
kstewrobfans
P E R F E C T I O N
(
++++
Collapse
)

Shooting to fame with her role as Bella in the Twilight series, Kristen Stewart proved she's no one-hit wonder. The actress posed for the February cover with Proenza Schouler designers Jack McCollough and Lazaro Hernandez in a deserted L.A. warehouse, where she talked exclusively to Vogue.com about how she got her start in the business, the strangest part about being thrust under microscope, and where she sees herself in ten years



Aww she's precious, stunning!




vogue.com | youtube | non-youtube | more screencaps here
kstewrobfans




Hervé Léger by Max Azria

Kristen Stewart at the Los Angeles premiere of Adventureland.

March 16, 2009


(

++++Collapse

)

While Kristen has been working in Hollywood almost her entire life, it was the wild success of Twilight in 2007 that pushed her—and her fashion choices—into the spotlight. She gamely took up the challenge by stepping out in short, stylish looks that are pretty without being too sweet. After reviewing the past few years of photographs—from her premieres, awards, and appearances in LA, New York, and beyond—here are a few of the fashion favorites.

vogue

kstewrobfans
kstewrobfans

I don't think we had posted the covers, have you pre-ordered?



This title will be released on February 1, 2011.


Pre-order on Amazon now!

via


dizzymsslzzie
preview*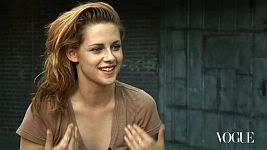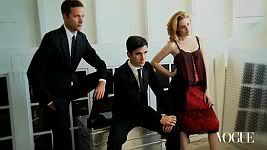 the rest + ZIP download link here -->
twilightmb.proboards.com/index.cgi
enjoy and credit if use!
kstewrobfans
The rumors are true! Kristen Stewart is our February cover


Proenza Schouler
For our first US Vogue cover, Kristen is photographed by Mario Testino and styled by Tonne Goodman exclusively wearing Proenza Schouler.

Celebuzz
Kristen Stewart has gone from Twilight's fumbling Bella Swan to a glamorous Vogue cover girl! Kristen, 20, brings her smoldering good looks to cover of Vogue's February 2011 issue

Belfast Telegraph
Kristen Stewart is thinking of setting up halfway homes for workers wanting to leave the sex trade. Inspired by her research into the subject for Welcome To The Rileys, in which the Twilight star plays a stripper who wants to escape the seedy industry, she is now considering using her fortune to help those in need. "That would be amazing - right now it's the thing I feel most connected to," she told US Vogue.

Fashionologie
Vogue is treading new cover girl territory, what with Kristen Stewart on the February 2011 cover — but the Stewart cover also marks another first: Proenza Schouler's first Vogue cover And the coup doesn't stop there — Stewart wears Proenza exclusively in the cover story, including outtakes. Stewart first wore Proenza in November 2009, at the London Twilight Saga: New Moon premiere, but Lazaro Hernandez says that he and Jack McCollough hadn't met her physically until when they were photographed by Mario Testino together for the Vogue cover story. "She's very the girl we have in mind when we design," he added. "It's cool to see Kristen in the clothes because she's not 'the lady,' and that's exactly who we see in those clothes."
Daily Fill
One of the most beloved stars on the planet, Kristen Stewart covers the February 2011 issue of Vogue magazine. The Bella Swan babe posed for a spread shot by Mario Testino while opening up with the fashionable mag about topics including her girl-crush on Jake Gyllenhaal's Golden Globes date, Jenny Lewis. Miss Stewart dished of Lewis, who leads up the Indie band Rilo Kiley, "She's the only person I've ever met that I can't function around."
Ok Magazine
For the month that's all about love, Vogue is putting Twilight's Bella, Kristen Stewart, on their cover and showing her off as a beautiful blonde!


(
Read more...
Collapse
)
kstewrobfans
Meanwhile, Vancouver is getting ready!

"The house is just a shell of a house with no interior decoration or structural design. The art department hangs the drapes and puts a lamp in the front window but the interior of the house is an empty shell. The interior shots of "The Swan House" are filmed on a sound stage." But, don't expect to get too close to the set as it is being built. She also notes, "The house will take about 7 to 10 days to complete. A large chain link fence surrounds the property and several No Trespassing Signs are hanging on the fence." - OLV
Lastly, Rio Filme president tweets..."the chances of a Breaking Dawn premiere in Rio are very big".
But what about those "confirmed" rumors? Our affiliate Twilightish got an update directly from Summit: "at this time no premiere location has been chosen and the current rumor is false"

via | via




kstewrobfans
Kristen Stewart, 20, struck a pose for famed photographer, Mario Testino, dressed in Proenza Schouler and sporting a voluminous blow-out, courtesy of celebrity stylist Oribe "Kristen is a beautiful young girl, and this style was all about softening her hair to go with the clothes she wore on the cover," says Oribe.

He tells UsMagazine how to recreate the Kristen's hair look in four steps:
Spray your hair, section by section, with a volumizing product. He used Oribe Volumista Mist ($29, oribe.com). Then, blow-dry hair using a round brush to add body and movement. Use a large-barrel curling iron to create big, loose curls. Spray each section first with a flexible-hold hair spray to prevent frizz and lock in the style. Brush out the curls so the style looks natural with lots of body. Finish with an all-over mist of lightweight hairspray.


kstewrobfans
Five questions for Vogue's Eve MacSweeney about February cover girl Kristen Stewart.
Vogue.com: Where did you interview Kristen?
Eve MacSweeney: Since she had just started a year's worth of filming of the two-part finale of the Twilight Saga in Baton Rouge, Louisiana, I went there to see her. It's a fairly small town, so at first I thought it would be fun for her to show me around and visit the local places she likes. Wrong! I totally underestimated how hard it is for her to go anywhere without being mobbed. We met in the house of a friend of hers on a gated property, and even then, if she caught sight of a teenage girl in the distance, she would virtually drop to the floor so as not to be seen.
Vogue.com: Did anything surprise you about Kristen?
Eve MacSweeney: Since, as she herself put it, "I just can't go to the mall," she's developed some unexpected hobbies. She likes golf (lots of space, not a lot of human contact), and she really is an excellent self-taught cook. She told me she reads food magazines and watches a lot of cooking shows. When we met, she made an amazing tortilla soup with all kinds of accoutrements, (see recipe here) along with pulled pork. Delicious!
Vogue.com: What did you learn about her approach to fashion?
Eve MacSweeney: She had fun with the Proenza Schouler boys in our photo shoot, and she definitely keeps a young spirit in the way she dresses, like wearing short, not long. When she's dressing for an event she likes to keep things spontaneous—she has her stylist pull three or four looks and puts on whatever she feels best in at that moment.

(
Read more...
Collapse
)
kstewrobfans
TIME takes a look at some other British exports that made it big across the pond:

Robert Pattinson


The 23-year-old actor, born and raised in London, thought he'd hit the big time when he landed his first blockbuster role playing Cedric Diggory in Harry Potter and the Goblet of Fire, the fourth installment in the Harry Potter series. But it wasn't until Pattinson was picked to play seductive vampire Edward Cullen in the film adaptation of Stephenie Meyer's Twilight saga that he got the chance to really sink his teeth into Hollywood. Since then, he's sparked a Beatlesque frenzy among Twihard fans and written an alternative, dark and intense chapter in the annals of U.S. pop culture. Now if we could only figure out whether or not he's single.
via
pattinsonlife